If main video player is not work, Please click the another player in video player-bar.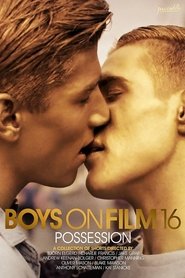 Boys On Film 16: Possession
Golden boys, teen lust, self-conscious dolls, chance encounters, a vengeful creature, holiday romance, hidden sexuality — Boys On Film celebrates it's (not so) sweet sixteen with an astonishing selection of the latest international gay short films. Volume 16: Possession features ten complete films: Kai Stänicke's "Golden" with Christian Tesch and Maximilian Gehrlinger; Christopher Manning's "Jamie" starring Sebastian Christophers and Raphael Verrion; Kai Stänicke's "B." starring Susanne Bormann and Andreas Jähnert; Blake Mawson's "PYOTR495" starring Alex Ozerov; Charlie Francis's "When A Man Loves A Woman" starring Tommy Jay Brennan, Jemima Spence, and Diane Brooks Webster; Anthony Schatteman's "Follow Me" starring Ezra Fieremans and Maarten Ketels; Jake Graf's "Chance" starring 'ABS' and Clifford Hume; Andrew Keenan-Bolger's "Sign" starring John McGinty and Preston Sadleir; Oliver Mason's "Away With Me" starring Chris Polick and Lee Knight; and "We Could Be Parents" by Björn Elgerd.
Duration: 123
Quality: 4K
Release: 2017